60's & 70's Concert Posters...they're back!
By David Faggioli
Art and music movements evolve, revolve, devolve and dissolve with the motion of the planet. If an especially incredible music trend or performer(s) caught your brain just when it was breaching... then you're quite possibly left with a very deep imprint on your soul. Echoing the tides of joy and ecstasy when it blossoms out of deep freeze by the visual feast of beholdin' a concert poster emblazoned by mood illuminating artwork. A readily available form of time travel back into an oasis of musical inter-dimensional transport, exhibits of 60's and 70's concert posters are capable of evoking stress transcending "brain reactions" of truly revitalizing proportions.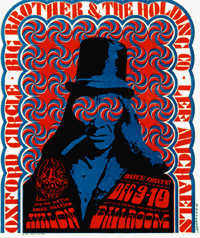 Now if BOTH the music group AND the artwork emerging from the piece completely dominate your visual and auditory core memories, a trance state perfuses the neurons and bliss is attained.
Poster artists spawned in the Psychedelic Concert poster movement of the late 60's in the San Francisco Bay Area inspired and recorded the evolutionary surf resonating from the nucleus of unparalleled radioactive musical creativity of Psychedelic Rock, Blues, Folk, Country and Jazz performing acts.
Big Brother San Francisco Avalon Ballroom
©1967 Family Dog Productions
Rick Griffin, Victor Moscoso, Alton Kelley, Stanley Mouse, Lee Conklin, Wes Wilson, Bonnie MacLean, David Singer, Bob "Raphael" Schnepf, Tom Weller, GUT, Bob Fried, Neon Park, as well as scores of other graphic artists undergoing exponential mutation on the frontiers of the cutting edge of printing technology produced the late 60's music concert poster "Underground Tests" of megatons of potent colors and surrealism. The "cranium" reactions and world wide fallout are still polluting thoughtstreams and living environments in "AWAREHOUSES" featuring Rave music happenings and the UNsurfable beyond of computer graphic Rave card radicals continuing to unleash the imagination's limits!
While NOT one of America's most "officially" recognized art movements, Psychedelic Music posters ARE being enjoyed by multitudes in their home museums providing anti-gravity right when it's needed. Becoming an increasingly popular collectible, the 60's and 70's concert posters are undergoing another "Renaissance or Die" surge of unbridled interest. Several coffee table books covering subject have been published and republished due to the thundering tsunami of enthusiastic craving and nostalgia.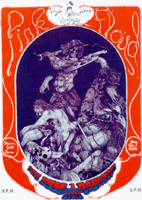 The Smithsonian continues to assemble an aggregate of 60's and 70's Psychedelic posters in their community and political departments. New museums continue to freeze the "woolly mammoths" in their collections for future internet displays and public showings. The Experience Music Project, funded by Microsoft's Paul Allen, will be opening sometime in l999 in Seattle (note: it's now operating!) featuring a prolific collection of JIMI HENDRIX memorabilia including ultra rarefied concert posters, etc. Other Rock and Roll music museums are germinating into the public's reality tunnels.

Pink Floyd Terrace Ballroom, SLC, Utah
© 1970 Rob Brown
The Internet is home to myriads of 60's and 70's full color tours of posters you may never see elsewhere, compressed and available at the touch of your walking fingers NOW at your local cyberspace!
The de-centralization of collections, museums and visual gems fuelled by Berne Hogarth in the 18th century when he produced affordable lithographs that even the lower classes might afford is cascading exponentially on the world wide web invading the dull horizon of pre-fab television wasteland and large common denominator straight jacketing limits of "producible" concepts of realities. The inexpensive TV computer systems available now allow the de-centralizating avalanche room to roam through just about anyone's mental expanse.
Jefferson Airplane, Grateful Dead, Crosby Stills Nash and Young, Moby Grape, Santana, Big Brother and the Holding Company, Jimi Hendrix, Frank Zappa and the Mothers of Invention, Janis Joplin, The Doors, and a myriad of other psychedelic rock bands formed the musical epicenter orbiting San Francisco's Bay Area in the 60's and into the 70's.
The music continued to incorporate and merge with a myriad of musical influences, including blues, folk, country, rhythm and blues, soul, bluegrass, jazz, space rock, electronic, classical, fusion, progressive rock, ad infinitum!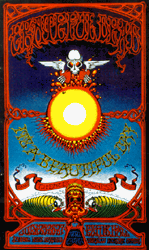 Major blues acts became more widely known during this musical renaissance of creative fertility and vigor. BB King, James Brown, Count Basie, Big Mama Thornton, Junior Wells, Buddy Guy, Chuck Berry, Johnny Cash, Charles Lloyd, Pink Floyd, Walter Carlos, John Cage, Weather Report, Miles Davis, Don Ellis, Sun Ra and his Arkestra, Sonny Rollins, Muddy Waters, Howlin' Wolf, Leo Kottke, John Fahey, Ike and Tina Turner, Tower of Power and an endless labyrinth of groups and performers, completely off the Richter scale, entranced audience after audience with their brain / soul transporting sounds and imagination.
Grateful Dead Honolulu International Center
© 1969 Rick Griffin & Grateful Dead Productions